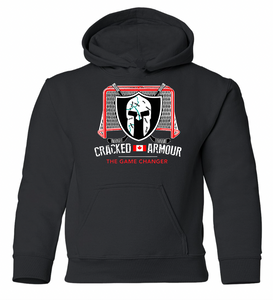 "THE GAME CHANGER" YOUTH Hoodie SHIP 2nd WEEK DECEMBER
"The Game Changer" : CRACKED ARMOUR bringing awareness for PTSD, TBI, and mental health to the hockey world.
BULK ORDER/TEAM Pricing available. Contact for details.
Super soft cotton for all-day comfort. Spread awareness for PTS(D) and TBI, and show support for those warriors who are struggling.
SIZES: For Unisex sizes please refer to sizing chart to purchase the size to best suit you. Returns will not be accepted for wrong sizes ordered.
*All Measurements Taken While Clothes are Laying Flat*
*Double Width Measurements for Waistline Size*
_________________________________________________________________________
Unisex Pull Over/Zip Up Hoodies & Long Sleeves:
 

Size Specs

S

M

L

XL

2XL

3XL

Length (Inches)

26
27
28
29
30
31

Width (Inches)

20
22
24
26
28
30

Sleeve (Inches)

31
32
35
37
39
41
Unisex Crew Neck:
 

Size Specs

S

M

L

XL

2XL

3XL

Length (Inches)

27
28
29
30
31
32

Width (Inches)

20
22
24
26
28
30

Sleeve (Inches)

33
34
35
36
37
38
Unisex T-Shirts:
| | | | | | | |
| --- | --- | --- | --- | --- | --- | --- |
| Size Specs | S | M | L | XL | 2XL | 3XL |
| Body Length (Inches) | 27 | 28 | 29 | 30 | 31 | 32 |
| Body Width (Inches) | 18 | 20 | 22 | 24 | 26 | 28 |
Women's Tank Tops:
| | | | | | |
| --- | --- | --- | --- | --- | --- |
| Size Specs | S | M | L | XL | 2XL |
| Body Length (Inches) | 19 1/4 | 19 3/4 | 20 3/8 | 21 | 21 5/8 |
| Body Width (Inches) | 15 7/8 | 16 1/2 | 17 3/8 | 18 1/4 | 19 1/8 |
Youth Hoodies:
| | | | | | |
| --- | --- | --- | --- | --- | --- |
| Size Specs | XS | S | M | L | XL |
| Body Length | 19 3/4 | 21 1/4 | 22 1/2 | 24 |  25 1/2 |
| Body Length Tolerance | 1 | 1 | 1 | 1 | 1 |
| Chest Tolerance | 1 | 1 | 1 | 1 | 1 |
| Chest Width | 16 | 17 | 18 | 19 | 20 |
| Sizes (CA) | 2-4 | 6-8 | 10-12 | 14-16 | 18-20 |
| Sized (US) | 6-8 | 10-12 | 14-16 | 18-20 | 22-24 |
| Sleeve Length | 23 1/2 | 26 1/2 | 27 3/4 | 30 1/4 | 33 |